A two-day international workshop on the 24th and 25th of February 2015 in Halle/Saale, Germany
The article "Community Media Broadcasters in Germany and online archiving" by Joost van Beek caused various discussions among the project partners on audiovisual archiving processes.

The main questions were and are "What is worth archiving?", "What is worth republishing?", "How do we edit material to rebroadcast it or to archive it?", "Which innovative ways do people use to connect the content of an online archive with further websites and other archives?".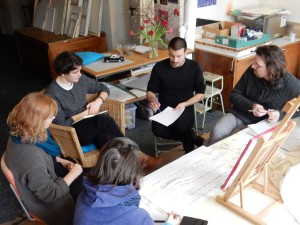 Inspired by the various questions that arose, we developed a workshop to go more into detail and to think about new ways and innovative alternatives to publish and share content. Beyond that we focused on the possibilities of transferring the knowhow about innovative practices to people who use audio-visual archives and/or radio archives.
Participants joined from Radio Student in Ljubljana, Central European University in Budapest, Radio FRO in Linz and Radio CORAX in Halle.