Project Meeting in Budapest
In November 2013, community radio activists from Austria, Germany and Ireland met with academics from Central European University in Budapest, Hungary, to launch a project about how community media can best use and develop online archives.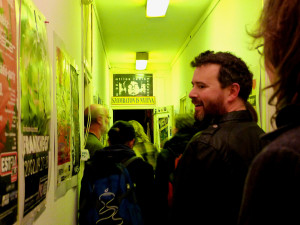 The necessity of sustainable archiving has been a subject of discussion for the civil media community for a few years now, and the project, called "CAPTCHA – Creative approaches to living cultural archives," aims to provide new insights on how to securely make community media content accessible online. The project encompasses both research in best practices and the development of a model for archiving.
In the first CAPTCHA radio show about the first CAPTCHA project meeting, you can hear impressions from the exchanges that took place during the meetings and from excursions to Radio Tilos, the famous independent radio station in Budapest, and the Open Society Archives. During the 62 minutes of this program, questions are raised like: How are you archiving? Who is using the content? What do you think about the cooperation of the European community media at the moment? What will community media look like in 20 or 50 years?

download
The following people appear: Virág Bottlik (Radio Corax, Halle), Gábor Csabai (Tilos Rádió, Budapest), Kate Coyer (Central European University, Budapest), Thomas Diesenreiter (Radio Fro, Linz), Helen Hahmann (Radio Corax, Halle), Gabriella Ivacs (Open Society Archive, Budapest), David Knox (Near Media Coop, Dublin), Paul Loughran (Near FM, Dublin), Franziska Stübgen (Radio Corax, Halle), Georg Wellbrock (Radio Corax, Halle)